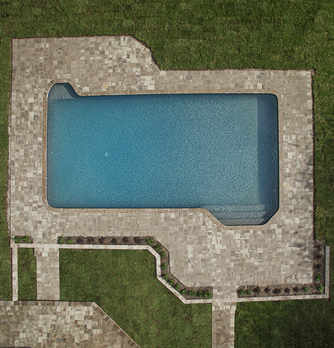 Residential Swimming Pool Resurfacing
Plaster Tech specializes in swimming pool remodeling to help you have the pool of your dreams. No matter how old your pool is, Plaster Tech can design or remodel your current pool into something you will love again. With our expertise, you will have a new look in no time.
Having your swimming pool resurfaced will give it an instant makeover. Every finish that we offer is designed to give you a different look. Depending on the style that you are going for, one of these finishes will work for you:
Quartz Finish- many pools already have this as their finish. Some like to keep this type of finish, but change the color.
Pebble Finish- There are 2 sizes of pebble finishes, mini and regular. The This is one of the most popular finishes. The lifetime warranty makes this a great choice.
Tile- the combination of colors and designs can give you unlimited choices. The tile can be used as an accent or to modernize the look of your pool.
Pavers- For a natural look, pavers are a great choice. They go together well with pebble finishes.
Each of these materials will give your water a different look and feel. Depending on what you are going for will determine which of these swimming pool refinishing options are best for you.
Professional Swimming Pool Remodeling
If you are unsure what style will work best for your home, let our team of professionals assist you. When you contact us, we will schedule a technician to come to your home and meet with you to decide on what is right for you.
Remodeling Options
There are several different types of remodeling options that you can choose from. In addition to swimming pool resurfacing, other options include:
Deck resurfacing
Add tile mosaics
Removal of a slide or diving board
Change Pool light out LED
Pool Plaster Repair
We also have the ability to repair your plaster or other finishes. Rather than remodel the entire look, we can make necessary repairs to restore your pool. Our technicians can locate the damaged areas, and provide you with solutions.
Should you notice any areas where you are in need of pool plaster repair, do not hesitate to let us know. We can take care of it quickly.
Call to schedule an estimate – 904-509-9335
If you are in need of swimming pool remodeling, pool plaster repair, or swimming pool replastering. We can help you. Contact us today so that we can set up a time to meet. Our technicians will work with you to develop a plan and then professionally execute it.
We look forward to working with you.