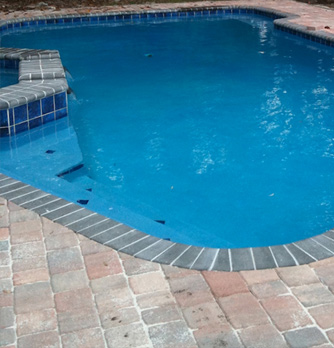 Paver Decking Installation & Repair
When it comes to completing the look of your pool, swimming pool decking is key. Pool pavers bring the style together. Here at Plaster Tech, we are able to handle your pool decking installation.
Swimming Pool Decking
There are a few different types of pool pavers that you can choose from. There are concrete, tile, stone, and brick surfaces. When it comes to deciding which paver decking is best for your home, here are things to consider:
Slip Resistant –
It is very important to go with a type of swimming pool decking that is not too slippery.

Safety should be a big priority to you when making this choice. Even if a particular style or pool paver is something you like, if it is going to be too slippery, it is best to pass it by. There are many designs and styles that can fit your needs.

Heat Absorption –
Some materials, such as brick or concrete, may become too hot depending on the shade you have around your pool. If your area has full sun all day, bricks and concrete may not be your best choice. Travertine handles the heat better than these other options.

If your area has a lot of shade, then bricks and concrete may be a great choice. A good way to test this is to set out a few different types of decking in the area where it will be all day and see how hot each one gets.

Budget –
When it comes to pool decking installation, you need to consider your budget. There are some paver decking options that can reduce your cost without compromising quality. Pouring concrete and adding in decorative stones or tiles may be a good choice.
Design –
You want swimming pool deck that will add to your style, not detract from it. Our technicians can help assist you in choosing a design that works with all of the criteria that you have in regards to paver decking.
Maintenance and Care –
Each type of swimming pool decking needs different types of care and maintenance. There are some paver decking options that require minimal upkeep. Over time, all decking options will need some amount of maintenance, but others can be more problematic than some.
Professional Pool Decking Installation
If you are in need of repair or full pool decking installation, Plaster Tech can take the job. We will work with you to determine your best options for paver decking material. Once we have an idea of what will suit you best, our technicians will develop a plan and start the project.
Call Today for a paver installation estimate – 904-509-9335
It is our desire to provide you with the swimming pool decking that you will love. We want to handle the installation and repairs for you so that your area is safe and beautiful.
Contact us today if you are ready for our help with installing pool pavers.