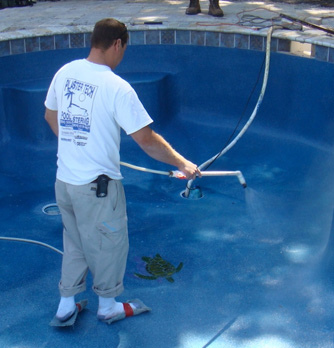 Swimming Pool Acid Washing & Stain Treatment
Over time, your pool can become stained from algae growth. Even if you clean the surface, it may not remove the stains. Plaster Tech offers swimming pool acid washing to make your waters sparkle again.
Why Use a Professional
It is important to hire a professional to handle your swimming pool acid washing. When done properly, acid wash removes algae stains. If it is not done properly, it can damage the finish.
The pool algae stain removal process can discolor the finish or cause chipping and flaking when done by inexperienced individuals. This is a result of leaving the pool acid wash on too long or applying when the weather is not conducive.
If you are in need of swimming pool acid washing, it is best to use Plaster Tech. We have trained technicians that know how to apply the pool acid wash properly to give you the best results.
Pool Algae Stain Removal Services
If you are unsure what style will work best for your home, let our team of professionals assist you. When you contact us, we will schedule a technician to come to your home and meet with you to decide on what is right for you.
The pool will need to be drained completely before swimming pool acid washing can take place. Then a thin layer of muriatic acid and water is applied using an acid brush.
After the solution has sat on for the appropriate amount of time, the technician will apply a neutralizer. This solution is made from soda ash. It causes the chemicals to stop eating away at the finish. Then the acid is rinsed thoroughly from the sides.
The technicians will then inspect the finish to determine if all of the stains are removed.
How Often Should This Be Done?
In order to remove the stains, a thin layer of the finishing must be removed. Having this process done too often can cause the finish to weaken. Ultimately, that would lead to the pool needing to be completely replastered.
Should Acid Washing Be Done on My Pool?
If the finishing of your pool is already thin, it might not be a good idea to have a pool acid wash treatment done. Also, if you have deep stains, acid wash algae removal treatments may not be effective.
Our technicians can determine if you are in need of this treatment or if replastering would be the better alternative. We will give you a fair and honest evaluation of the services that will best meet your needs.
When is the Best Time For Acid Washing?
It is best to acid wash algae stains in the winter or early spring. Having this service done in the off season will keep you from having to shut down your pool during prime swimming times. Also, since heat can be a factor in over processing, the cooler months will reduce the chances of damage to your finish.
Call to schedule an estimate – 904-509-9335
If you notice discoloration and staining that you cannot scrub away, call today for pool algae stain removal. Our team of professional technicians will evaluate your pool and provide you with an estimate. We will remove the stains and leave your pool looking great.
Call today for pool algae stain removal. We are here to help.